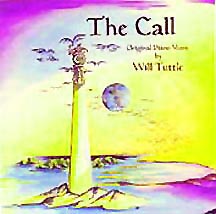 Solo piano in a musical journey with rich, complex harmonies in a wide variety of tempos and styles.

Will Tuttle's first CD album. A highly-acclaimed musical adventure based on an inner journey motif. This uplifting album of all-original music beckons the listener with memorable melodies woven upon flowing harmonies.
Musically and conceptually, The Call is a landmark album. Opening the "Call" trilogy, it celebrates the power of natural acoustic instrumental music to evoke deep feelings and a sense of wonder and adventure. With pieces played in all seven keys, Tuttle's original poems and art by Swiss visionary artist Madeleine, The Call integrates meaning on several levels. Many discoveries await on this many-layered experience.
CD: $15.00; MP3 download: $12.00



All Albums are also available on iTunes, GooglePlay, Spotify, etc.
Click on the highlighted tracks below to hear a short mp3 sample,
with large file sizes indicated for hi-speed connections.
SIDE 1
The Call (5:20)
Redwood Light (6:15)
EarthRise ( 2:10)
Indra's Fugue (4:40)
StaRsong (3:25)
The Kiss (4:45)
Lila (4:00)
SIDE 2
Le Jardin (4:40)
The Angel (4:50)
Spun Gold (4:50)
Benediction (4:50) (large mp3 file)
From Silence (5:55)
Earth Emerging (6:15)

Total Time 62:26
"Stirring, heart-opening, inspiring, The Call takes solo acoustic piano into a new dimension. Will plays the piano with impeccable grace, caressing each note with love. My highest recommendation." -New Age Retailer

"Will Tuttle's compositions for solo piano are simply beautiful. The Call will touch a place of purity inside you and give you moments of serenity, peace, and beauty." -NAPRA Review

"The Call is like an enchanting entreaty to come along on a journey where anything can happen. The album gives a beautifully lush, yet not sweet, feeling of joy." -Celebration Starsong
"An expression of hope and joy, The Call inspired my thoughts and brought a tear to my eye." -Magical Blend Magazine
Click on an image to see and hear Will Tuttle's other CD releases:
| | |
| --- | --- |
| | Reflections - Relaxing and meditative piano & flute voyage. |
| Inspiration- a piano & flute adventure by Will & Madeleing -- for journeying, inspiration, & relaxaion. An enhanced CD with 25 of Madeleine's paintings also. | |
| | Ascension - A Journey Beyond. Piano music of immense power, joy, and inspiration. |
| Islands of Light - an enhanced CD multimedia adventure with 18 pieces (64 minutes) of uplifting and relaxing original piano music. | |
| | AnimalSongs - soothing and soaring piano blended with animal voices and nature sounds. |
| The Call - a musical journey with rich, complex harmonies. | |
| | OceanPrayer - a meditative album created to relax and heal |
| SkyHigh - an album of swirling, uptempo and joyous piano music | |
| | World Peace Meditations - a spoken word meditation album with 8 healing meditations for awakening plus bonus World Peace Diet track. |
| Four Viharas - a spoken word meditation album on the ancient practice of cultivating Love, Compassion, Joy, and Peace. | |

(All music is available for download at iTunes and similar sites)

Please click here for Will's spoken word CDs

Please click here for Dr. Will Tuttle's book, The World Peace Diet

Will's Music |Portraits | Seminars | Schedule |M's Art| Contact | World Peace Diet| Order | Videos| Privacy