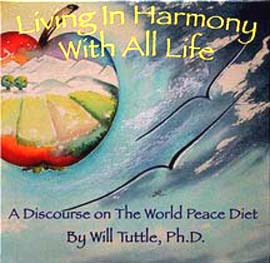 Living In Harmony With All Life
An Inspiring Discourse
on
The World Peace Diet
Our happiness is interconnected with the happiness of others.
In this provocative discourse, Dr. Will Tuttle illuminates the keys to inner peace and harmony by showing that the mentality required by our food choices is a powerful force in our world. He reveals how our mistreatment of animals is an unrecognized obstacle to freedom and joy, and how to transform our lives to live in harmony with all life, and contribute to creating a more peaceful world.
77 minutes of discourse in 12 sections, which are graced with original music from Will's AnimalSongs album.

$10.00 for CD - ORDER NOW
"The wisdom of Will Tuttle, like his music, is breathtaking in its originality and transforming in its gentle truths.
Every aspect of your life --body, mind and spirit-- is about to be blessed by the words of this modern day mystic."
Judy Carman, author of Peace To All Beings
"Living In Harmony With All Life is great food for the soul.
Will Tuttle brings reality back to our decisions about our health, the animals and the environment.
These are words to live by."
Howard Lyman, author of Mad Cowboy

Also available on iTunes, GooglePlay, Spotify, etc.
Click on an image to see and hear Will Tuttle's other CD releases:
| | |
| --- | --- |
| | Reflections - Relaxing and meditative piano & flute voyage. |
| Inspiration- a piano & flute adventure by Will & Madeleine -- for journeying, inspiration, & relaxation. An enhanced CD with 25 of Madeleine's paintings also. | |
| | ASCENSION- A Journey Beyond. Original piano music of power, joy, and inspiration. |
| Islands of Light - an enhanced CD multimedia adventure with 18 pieces (64 minutes) of uplifting and relaxing original piano music. | |
| | AnimalSongs - soothing and soaring piano blended with animal voices and nature sounds. |
| The Call - a musical journey with rich, complex harmonies. | |
| | OceanPrayer - a meditative album created to relax and heal |
| SkyHigh - an album of swirling, uptempo and joyous piano music | |
| | Four Viharas -a spoken word meditation album on the ancient practice of cultivating Love, Compassion, Joy, and Peace. |
| World Peace Meditations- a spoken word meditation album with 8 healing meditations for awakening plus bonus World Peace Diet track. | |
Please click here for Will's spoken word CDs
Please click here for Dr. Will Tuttle's book, The World Peace Diet

For information on quantity discounts, please contact us:
(800) 697-6614 or (707) 207-5020
Will's Music |Portraits | Seminars | Schedule |M's Art| Contact | World Peace Diet| Order | Videos| Privacy