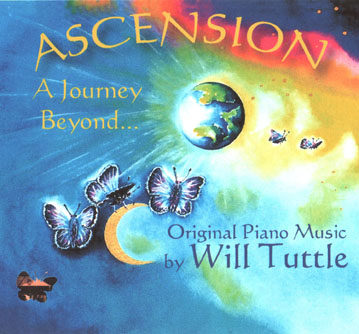 Food for the
Heart and Spirit.
Music that reflects the Ever-Pouring Blessings of Heaven
Piano music of rare power, passion, joy, and inspiration.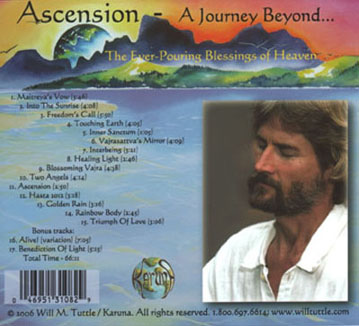 From Will about this album:
People who hear my music live often tell me they'd love a CD that somehow captures the uplifting energy and moving power that flows through my live performances. I believe that with Ascension we come closer than ever to capturing the unique power of this music.
I dedicate this album to building a field of awakening, compassion and peace to surround our earth and bless all beings. We are in a time of enormous transformation, and music has the vibratory power to lift our consciousness to a qualitatively higher level of awareness. We can know, feel, connect, awaken, and love instead of merely scheming, thinking, and manipulating.
Thank you for all you're doing to bless our world and to prepare our consciousness for ascension--the inevitable transformation of human consciousness.
Review -
"Ascension is my favorite. I play it every night before bed. It makes me so happy I want to dance when I listen to it!" - D. Vance (Wimberley, TX)
On this ASCENSION CD, you'll hear beautiful piano music that reflects your deepest aspirations and yearnings, 17 pieces, 66 minutes in length.

CD - $15.00; MP3 Download - $12.00





Also available on iTunes, GooglePlay, Spotify, etc.
Click on any of the tracks to hear an mp3 sample:
Click on an image to see and hear Will Tuttle's other CD releases:
| | |
| --- | --- |
| Reflections - Relaxing and meditative piano & flute voyage. | |
| | Inspiration- a piano & flute adventure by Will & Madeleing -- for journeying, inspiration, & relaxaion. An enhanced CD with 25 of Madeleine's paintings also. |
| Islands of Light - an enhanced CD multimedia adventure with 18 pieces (64 minutes) of uplifting and relaxing original piano music. | |
| | AnimalSongs - soothing and soaring piano blended with animal voices and nature sounds. |
| The Call - a musical journey with rich, complex harmonies. | |
| | OceanPrayer - a meditative album created to relax and heal |
| SkyHigh - an album of swirling, uptempo and joyous piano music | |
| | World Peace Meditations - a spoken word meditation album with 8 healing meditations for awakening plus bonus World Peace Diet track. |
| Four Viharas - a spoken word meditation album on the ancient practice of cultivating Love, Compassion, Joy, and Peace. | |
Please click here for Will's spoken word CDs
Please click here for Dr. Will Tuttle's book, The World Peace Diet

For information on quantity discounts, please contact us:
(800) 697-6614 or (707) 207-5020
Will's Music |Portraits | Seminars | Schedule |M's Art| Contact | World Peace Diet| Order | Videos| Privacy