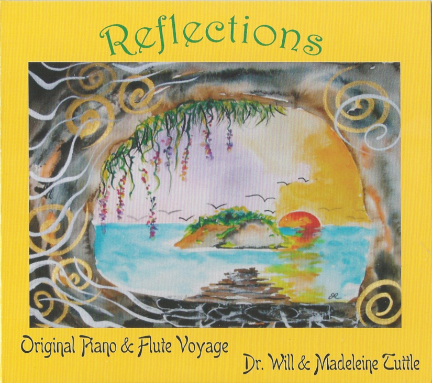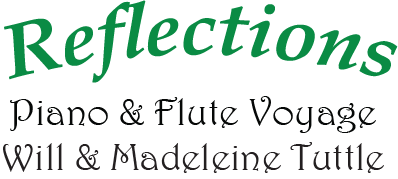 Original piano and flute music
for voyaging, meditation, relaxation, and discovery.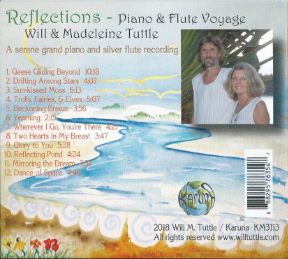 Heart-touching and relaxing acoustic piano creations by Will, accompanied by Madeleine's plaintive and poignant silver flute. This is Will & Madeleine's second album of piano & flute duets, and for this album, they have chosen some of Will's most beloved melodic and harmonic themes, and blended them with ethereal flute passages improvised and recorded live in their countryside studio.
Making music together can be a communion of joy, love, and peace, and this album invites us to listen deeply and connect with the profound communion that we feel with nature, and with our true nature as eternal consciousness.
This album calls to be listened to over and over again, and with every listening, we hear more, and new dimensions are revealed.
The love of nature, animals, and of each other permeates this album, making it a healing voyage as well as a beckoning journey of discovery.
Old hidden lake: reflecting wild white geese;
Autumn sky: honking encouragement and liberation;
World mirror: Boundless reflections, each revealing the source.,

CD - $15.00; MP3 Download - $12.00





Also available on iTunes, GooglePlay Spotify, etc.
Click on any of the highlighted tracks below to hear an mp3 sample:
Click on an image to see and hear Will Tuttle's other CD releases:
| | |
| --- | --- |
| Inspiration- a piano & flute adventure by Will & Madeleing -- for journeying, inspiration, & relaxaion. An enhanced CD with 25 of Madeleine's paintings also. | |
| | ASCENSION- A Journey Beyond. Original piano music of power, joy, and inspiration. |
| Islands of Light - an enhanced CD multimedia adventure with 18 pieces (64 minutes) of uplifting and relaxing original piano music. | |
| | AnimalSongs - soothing and soaring piano blended with animal voices and nature sounds. |
| The Call - a musical journey with rich, complex harmonies. | |
| | OceanPrayer - a meditative album created to relax and heal |
| SkyHigh - an album of swirling, uptempo and joyous piano music | |
| | World Peace Meditations - a spoken word meditation album with 8 healing meditations for awakening plus bonus World Peace Diet track. |
| Four Viharas - a spoken word meditation album on the ancient practice of cultivating Love, Compassion, Joy, and Peace. | |
Please click here for Will's spoken word CDs
Please click here for Dr. Will Tuttle's book, The World Peace Diet

For information on quantity discounts, please contact us:
(800) 697-6614 or (707) 207-5020
Will's Music |Portraits | Seminars | Schedule |M's Art| Contact | World Peace Diet| Order | Videos| Privacy