Limited-edition Prints of Madeleine's Paintings
Printed on archival nuseum-quality watercolor paper with the brightest and most durable inks, these beautiful prints are virtually identical with the original artwork. They are created using the famous Giclée printing process, and are remarkably precise and vibrant reproductions of the originals.
Each print is individually signed and numbered. Madeleine looks at each print and gives it the final touches.
The process used and the attention to detail ensure enjoyment and value for many years to come.
Internet Special: If you buy one print from this page, you are eligible to choose a second one for half price. If interested, please indicate the 2nd print in the notes on the order page.
Click on an image to see larger photos of these limited-edition artist prints:
Shipping - internet special - only $4 each (domestic).
New arrival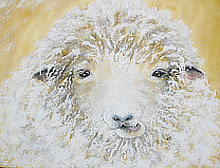 I'll Comfort You...
Companion Forever...

10" x 14"

$100

Compassionate Harvest

12" x 16"

$125

Hang In There!

12" x 16 "

$125

I'll Take You There

12" x 16"

$125

Don't Leave

12" x 16 "

$125

Jewel in the Lotus

12" x 16"

$125

Leaving the Nest

18" x 24"

$170

We Are All Friends

14" x 21"

$145

Alive!

12" x 16"

$125

The Wedding

14" x 21"

$145

Born to be
Free

12" x 16"

$125

Looking Beyond

12" x 16"

$125

Enlightenment

12" x 16"

$125

Jewels of Life

12" x 16"

$125

In Utter
Awareness

12" x 16"

$125

At Home
In Perfection

10" x 14"

$100

Empowered By Spirit

18" x 24"

$170

In Joyful Peace

18" x 24"

$170

Remembering The Truth

14" x 21"

$145

Living The Dream

10" x 14"

$100

Adventure To The Unknown

10" x 14"

$100

The Journey

10" x 14"

$100

Surrounded by Love

10" x 14"

$100
If you would like to commission Madeleine to create a special painting for you or your loved ones, your center or your event, please contact her through Karuna Music and Art at:
Madeleine Tuttle
1083 Vine Street
Healdsburg, CA 95448
800-697-6614 or 707-207-5020 (message)
Click below for more of Madeleine's art:
| | |
| --- | --- |
| | |
| Frivolité | ArtCards |
Will's Music |Portraits | Seminars | Schedule |M's Art| Contact | World Peace Diet| Order | Videos| Privacy